To HELP with the COVID NIGHTMARE, I am offering my Deep Relaxation CD's (and chants) as FREE DOWNLOADS (for a short period of time, a $30 value each). PLEASE share (and DON'T do it for PROFIT!!). Psychologists and Hypnotherapists consider "these mystical journeys to be the MOST powerful form of REASSURING relaxation"! My FREE gift to you in a time of great need. EUROPEAN CONNECTION: We welcome the rapidly growing IRISH interest (you DOUBLED even that of the entire U.S. over the last several months!) Aloha blessings…
"The Secrets and Mysteries of Hawaii" can be ordered on-line, new and used, through any of the links below, as well as WallMart online. It is also available in most US and many European retail book stores. This book has held a *****5 star rating with Amazon.com for over 12 years, and has spread by word of mouth to over 8 countries (without any formal endorsement or promotional campaign). It has been translated into German and was inducted into the International Theosophical Archive (along with the new interpretation of the Dead Sea Scrolls) 2004. I wish to thank all of you "special Old Souls on the Road Less Traveled" for supporting this work beyond all traditional efforts and rules governing the industry.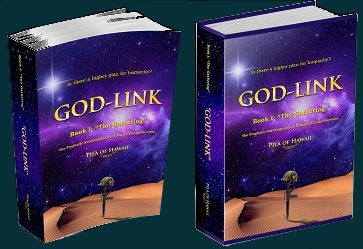 Order my new book "God Link" via Paypal using the buttons here.  (PLEASE NOTE:  Hardbound version: SOLD OUT!) Select appropriate shipping and if your shipping address is in the state of California include the CA sales tax in your shopping cart.