To HELP with the COVID NIGHTMARE, I am offering my Deep Relaxation CD's (and chants) as FREE DOWNLOADS (for a short period of time, a $30 value each). PLEASE share (and DON'T do it for PROFIT!!). Psychologists and Hypnotherapists consider "these mystical journeys to be the MOST powerful form of REASSURING relaxation"! My FREE gift to you in a time of great need. EUROPEAN CONNECTION: We welcome the rapidly growing IRISH interest (you DOUBLED even that of the entire U.S. over the last several months!) Aloha blessings…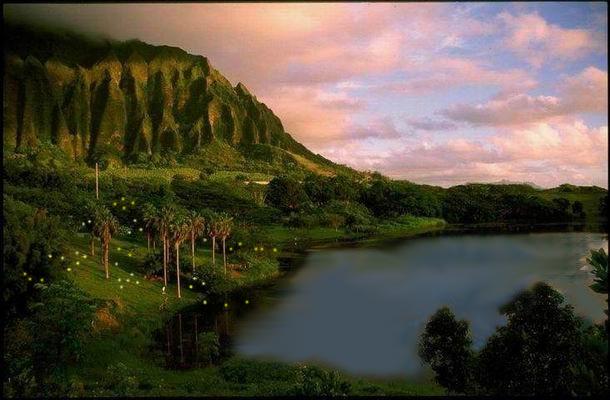 PROJECT HAWAII: "Firefly Village®" A lighthouse unto a New Horizon..
Project "Firely Hawaii", Phase I is a proposed "Active Green Retirement Community" (qualifying the word retirement) …and more.  The concept, because it is shared by visionaries around the world, is becoming the definitive "field of dreams" for a New Modality.  At first glance Firefly would appear to be  a "cozy Hawaii vacation village", with a mystique you can't quite put your finger on, reminiscent of the storybook way things used to be ..with a quaint European, and even an oriental touch or two.  A feeling that is "the crossroads of cultures" with a notable electricity in the air. Part of this excitement comes from a sense of adventure and discovery in the air.  On closer speculation you, the world traveler, always searching for paradise and the adventure of a far horizon, realize that you have stumbled upon an artists village, base upon ecology:  the 100% recycled "no carbon footprint" community of tomorrow.
The informal elegance of its quaint hotel and world class cuizine restaurants demand further exploration! Yes, there is even more to this Brigadoon, out of time experience.  Why aren't the elders behaving like old people?  Why are they all exercising?  What's all the excitement?  They seem younger than their years.  Does it have to do with the health spa or the university research center?
This prototype community, an entirely new element to Hawaiian tourism, will  function as an inspirational rainbow bridge for where the heart of humanity wants to be headed, (explaining some of the youthful excitement of its residents) …with the underlying educational premise of its university aspect and its message to the world: "We must begin to think differently." The simple, basic guideline, the "fly effort to effect our world"  is based upon the good old fashioned "wedding formula" …"Something Old, Something New, Something Borrowed, and Something Blue".The "Blue" is the lighthouse metaphor, a strange new blue light unto a troubled world, in its time of greatest change and need.  That metaphorically of a "frequency" that emphasizes humanity's new individuality, if you will (in terms of Eastern "chakra" understanding), and as Hawaiian Legend intonates: "of a frequency and colour never seen before on the earthly plane of material existence".  To harness the esoteric, may it suffice to say that the founder of the dream dedicates this outlandish notion to the greatest world hero, Neil Armstrong, who's one small step for man proved we are more than "of this earth, animal origin".  Through "Firefly" it is his one prayer that the Hawaiian and Hopi legend may now be fulfilled in this time of Biblical Prophecy, … out of the simple childlike synergy that comes from this "playground of new hope for all humanity". The simple premise and understanding of this new joy?  Not an elaborate and artificial "fantasy erector set", rather the shade palm and park bench where the world can appreciate what Warren Buffet does …in the simple and total enjoyment of a cherry coke.The setting for this new modality and way of thinking, relating and living?  The "place that all our world knows as Paradise"…
"The Human Soul yearns for its Hawaii. She is the 'living metaphor', the call to that soul, for all Humankind to return home… away from the white-noise static of a world half-gone mad, back to the sanctuary of the garden, the healing of the heart …and in the fiery sunset of paradise, the rekindling of our lost and broken dream. The dream of our youth when anything was possible. The dream rediscovered in childlike innocence and wonderment, that could champion a world in its time of greatest need."
-Pila of Hawaii